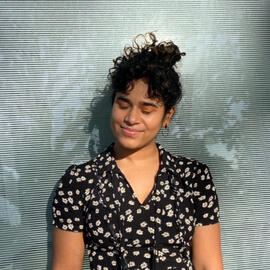 Rashika Rao
---
audio critic
About
Rashika Rao is a freelance audio critic from the American Midwest specializing in indie audio fiction. She is a staff writer at The Bello Collective, with additional work at Pocket Casts and the International Podcast Month blog.

Outside of writing, she is currently the Submissions Editor for Radio Drama Revival and Executive Producer and co-host on the Michigan Daily's Pass the MiC. You might have also heard her as Sofie on Supernatural Sexuality With Dr Seabrooke.

Rashika is passionate about making audio content more accessible, and has created episode transcripts for podcasts including Flash Forward and Advice for and from the Future. She is not accepting further transcript work at this time, but would be happy to chat with you about the process of setting up a workflow for/making transcripts!

Portfolio.

Get in touch.
Contact
You can get in touch with Rashika at [email protected].

Feel free to hang out with her on Twitter, where she posts a lot about transcripts, creators of color in audio fiction, and the glittering expanses of outer space!
x